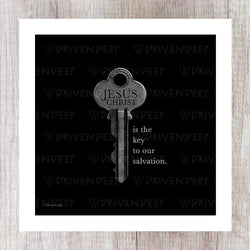 Driven Deep
Jesus Christ Is The Key To Our Salvation - Printed Artwork
Free Shipping
5% Goes To Charity --> Learn More
Made of enhanced matte paper, this piece of art was designed by Paul Moore to help others feel the power of Jesus Christ. The more we look to Christ in our daily lives the more we'll realize that He is the key to our salvation.
Additionally this print has a 1-inch white border, providing a deep elegance with any frame you choose.
These prints with their 1-inch white border measure 10x10 inches and 12x12 inches respectively.